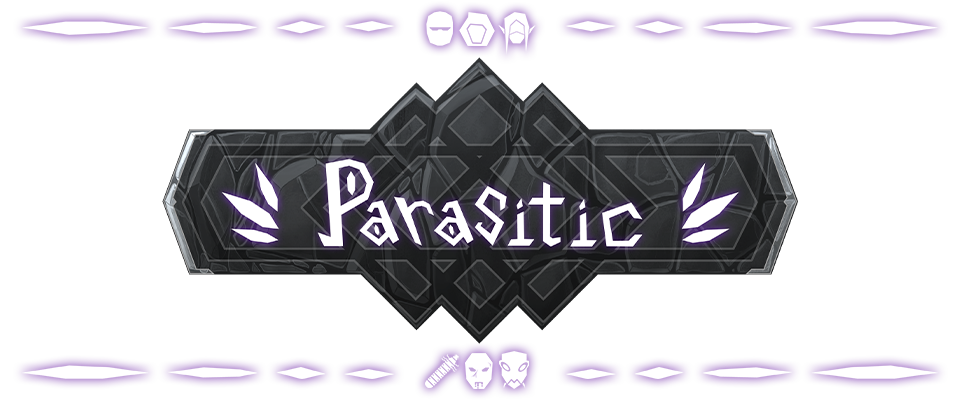 Parasitic
Hello everyone and welcome back to the Parasitic production blog for our fifth sprint in the seven sprint production process. My name is Dylan Levy-Gantt and I'm the producer on this title. This sprint was very exciting to see it progress as it did and I'm here to show off every piece of work that was done from our team. As usual I will be going from department to department to share the progress. Sit back and enjoy the content!
First up, we have PROGRAMMING! This sprint was focused on implementation of previously made assets so here are the finished results of the particle systems we have for the characters. First, we have the amazing work from our programmer Jeremy Casada.
Mage Lightning
Mage Fire Burst
Mage Enchant
Knight Sword Swoosh
These particles are a complete necessity to be brought into the game and they were done with lightning speed thanks to our very talented programmer Jeremy. Jeremy has stayed passionate about working on this title and it truly shows in his work and speed. Huge shoutout to him because this game would not be in the state its in without him.
Next on programming, we have Ryan Dangerfield. Ryan is wise, talented programmer that is always clarifying questions and making sure everything works before we send it into the game. This time around, Ryan focused on bringing a new dimension to the game's otherwise usually flat environment.
Slope movement!
Key Objective!
Ryan spent a long time this sprint finding out the best way to have the player move around in its environment and we came to some great results in the end. Having the player move up and down slopes was an amazing addition to the game and completely necessary for the game to feel more dynamic. Ryan also added in the ability to collect a key to open a doorway or another passage which means we can have objectives on the map to find. Great work.
Next, our third programmer Chase O'Conner
Chase did an amazing job this sprint with implementing necessary features we needed to add to the overall game in the end. Chase is always on top of his work and is never afraid to ask questions to clarify an idea or card if necessary. Chase is one of the most hardworking people I've seen and this sprint is no excuse. Chase spent this sprint attaching the animations to the characters that are respective to what the animation is doing.
Character specific upgrade screens.
Knight Attack Animation

Mage Attack Animation
Idle Animations

Walk Animations
Knight Shield Slam
Mage Enchant
Mage Fire Blast
Wow. Chase did a LOT this sprint in getting some necessary things hooked up and ready for the game. This is the time for polish and testing so I'd say, with this progress, we're right on time.

Next up, we have MODELING.
Brandon Uenaka and Devin Spencer are two of the most dedicated, hardworking modelers I've seen in this major and it shows heavily in their work,
First, we can talk about Devin's work.
Since we don't have any more models that will be going into the game, we feel as though a good use of time would be to go back into the old models and cut them up in an effort to one day implement the exploding parts as a particle system for when you kill an enemy.
Devin creates super high quality models and this was a step in the right direction given we already have a particle that shows the enemy exploding anyway. Great work.
Next is Brandon. Brandon is our asset/environment modeler so he always has stuff coming down the pipeline for the rest of the team.
Dead Forest Asset Models.
Map Objective for Completing the level.
Basic lighting fixtures.

Overall, Brandon makes some of the best environmental assets I've ever seen and it's been amazing being on his team. We always have miscellaneous items and stuff to add so Brandon should never get bored.
Next up, we have LEVEL DESIGN.
First up, we have Alexander Johns.
Level 5 Farmstead annotated map.
Level 5 Block out.

Xander was tasked with creating our level 5, the Farmstead level. This level is all about going up into an infested farm that's crawling with bugs and scourge. It was amazing progress to be able to see an annotated map and block out within the same sprint because this means we are back on schedule from a little bit of a dip in productivity. Overall great progress and we're close to implementation!
Next, we have Joseph Warren. Joe is tasked with our level 6, the High Castle in which the player must walk up staircases to eventually reach the top of the castle and defeat the boss. This will be the last level in the game.
Level 6 High Castle Annotation.
Level 6 High Castle Block Outs.
Next, we have Zoe Yan, another star level designer with a block out update for her dark forest level. This level is level 4, so this needs to start getting a little challenging for the player as they find out that the previous levels might have all been a training ground for the eventual difficulty spikes that are to come. Great stuff and always working hard.
Level 4 Dark Forest Block out

Lastly, we have our ART DEPARTMENT.
Atley Sakamoto is the UI designer for all of the games in the class and he makes sure to put extra time and care into our game specifically which is amazing. Below, you will see Atley's amazing work that always surpasses expectations.
First we have an updated UI panel at the top of the screen that shows all necessary information. This was an amazing addition and everyone loved it!

Next, a simple UI pop up that lets the player know that they can upgrade the ability or unlock it.

Finally, a defend UI that allows the player to finally see what they are doing when defend is pushed.
Overall, the team is making amazing progress and we are starting to wrap up development on the big picture. We are all excited to see the end result and are actively waiting for more work! Thank you to everyone on the team and lets finish strong!
Team Parasitic