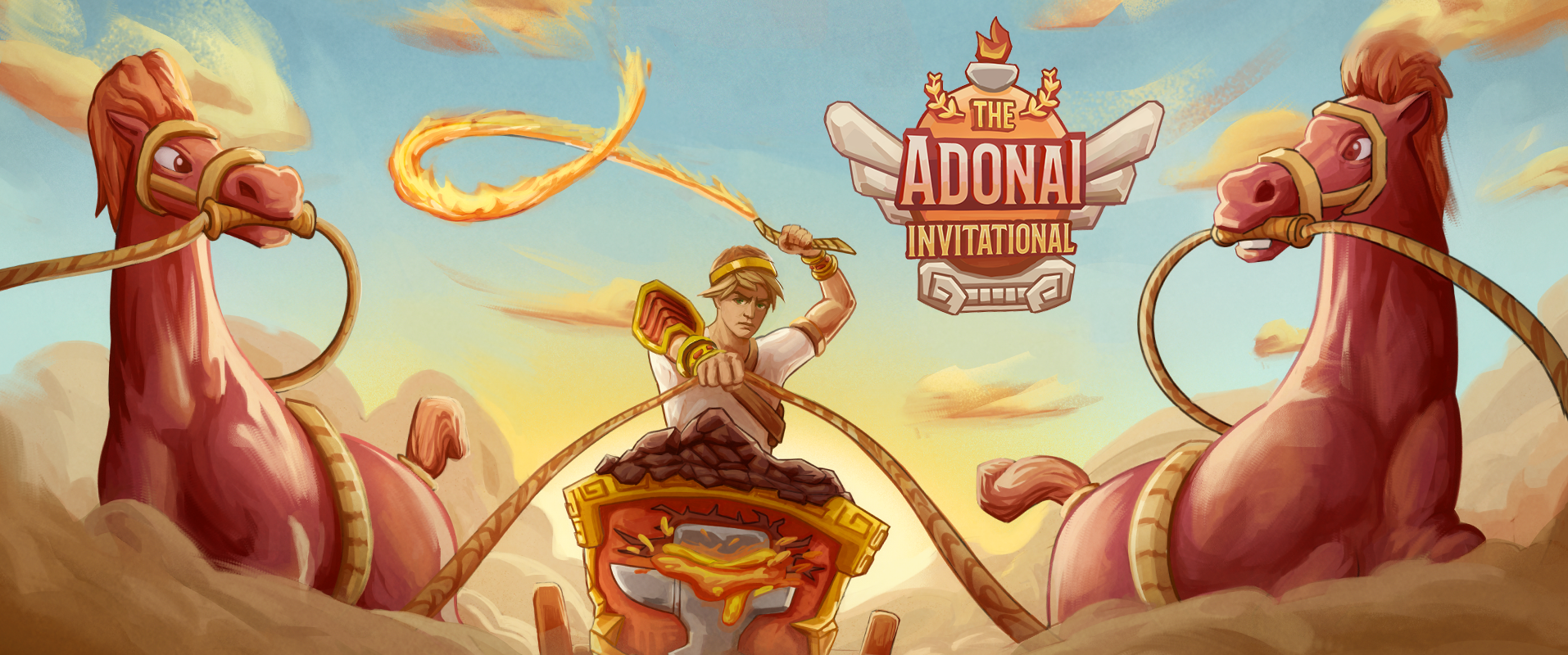 The Adonai Invitational
The Adonai Invitational is a competitive arcade racer themed around the ancient sport of chariot racing. Take on the role of an illegitimate child of the gods as you race others to prove your worth in front of the pantheon! Building up speed and maintaining it is key to winning races. To build up the most speed and be able to maintain it the player engages with focus, a resource used to boost your current speed past what you could without it. Focus is lost when not passing over recharge areas placed throughout the tracks. Use focus to engage the 'hit the rein's' ability that provides an on demand speed boost, but use it too rapidly and your horse team will get fatigued! Time your boosts to get the maximum speed at opportune moments.
Tracks you say? Why yes, we have them, and each one themed after a god of the Pantheon. The first track, Coast of Poseidon, is themed after the god of oceans, horses and earthquakes. Taking place on a usually peaceful island community, Poseidon has outfitted the track with power ups, a race course, a triumphal arch, and a set of mythical thoroughbred horses to choose from. He may even have a surprise in store on the final lap…
The second track takes the player into a deep enchanted forest of the hunt goddess, Artemis. The Grove of Artemis includes similar power ups as in Coast of Poseidon but in a new unique location. Compete against other illegitimate children of the gods as opponent racers or try to beat your own best time in two different modes, classic and time trial. Earn the praise of the gods, enhance your chariot, master the tracks, and become the greatest racer in Greek history!

----------------------------------------

System Requirements:

Windows
Supports KBM and Xbox/Playstation controllers
Specs:

CPU: Intel Core i5 or AMD equivalent
RAM: 8 GB
OS: Windows 10 64bit only
VIDEO CARD: NVIDIA GTX 660 or AMD Radeon HD 7950
FREE DISK SPACE: 1GB
DEDICATED VIDEO RAM: 2048 MB

----------------------------------------
The credits to our horse heroes

Ben Smith - Game Designer
Nathan Beste - Producer
William Coleman - Level Designer
Hudson Yang - Level Designer
Erika Muniz - 3D Art
Tristin Rond - 3D Art/Animation Programmer
Tamil Sadriev - 2D Art
Daniel Marshall - Animator
Justin Donato - Programmer
Adam Finke - Programmer
Install instructions
1. Download the zip folder
2. Extract files to desktop
3. Open folder and launch the .exe file within
5. Enjoy!
Download
Download
TheAdonaiInvitational_1.6.zip
311 MB