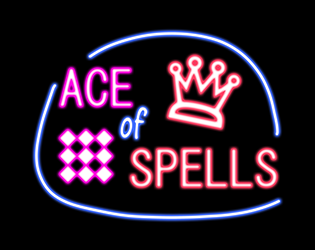 Ace of Spells
A downloadable game for Windows
Ace of Spells is a roguelike deck builder in which players seek to build powerful combos to devastate foes. Delve through multiple dungeons to retrieve your most valuable possession, The Ace of Spells! Ace of Spells is a spell-casting roguelike in which players build a deck of cards and cast them as they come into their hands. Players are rewarded for maintaining hands with multiple of the same color by adding significantly more damage and effects!
Ace of Spells features fun spell design and cute and charming enemies. Blast animated whiskey glasses and smoldering cigars with lightning, shadow, fire, and frost spells as you sling away. Collect cards as you play, adding to your power and fulfill the ultimate wizard fantasy!
Number of Players: 1
Credits:
Miles Gomez- Game Lead
Alex Chapman -Programmer
Alexander H. Lopez – Programmer
Joshua Knapp - Programmer
Xander Johns - Artist
Polawat Tantirangsee – Level Designer
System requirements
OS: Windows 10
CPU: Processor with 64-bit support
GPU: Gtx 660 or equivalent
Disk Storage: 500 Mb
Monitor Resolution: 1280 x 720, Recommended 1920 x 1080
No Internet connection required.
Download
Click download now to get access to the following files:
Ace of Spells Final.zip
117 MB